How much haggis?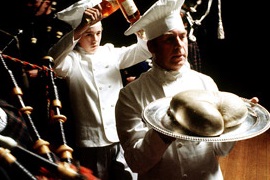 Perishability
Our haggis is sent fresh with at least one weeks date on it, so it can be refrigerated or frozen upon receipt. If you freeze it, you must use it within six months
How much notice do I need to give?
You can order 6 months in advance by selecting your delivery date at the checkout.

How much haggis do I need for my function?
We are asked regularly by customers how much haggis, neeps etc you need for a Burns Supper so we thought the information below would be helpful.

MacSween Haggis
For a starter allow 100g of haggis per person and for a main course allow 200g.
The most economical way to place your order is by purchasing a MacSween ceremonial haggis and then some of our Macsween catering rolls. Our MacSween chieftain haggis serves 16-18 people and our MacSween catering rolls serve 5-6 people. The majority of our customers also purchase tartan napkins and table runners and some Scottish cheese and oatcakes as an add on for their function.

Neeps (turnip)
For a starter allow 30g per person

For a main course allow 60g per person

Cock a Leekie Soup
One of our 415g tins of Baxters cock a leekie serves 2 people